This might be of interest for those who fancy some experimentation?
Following on from my testing of different Split-Charge options, I thought it might be useful to share the "Inverter+Mains Charger" option which turned out to work pretty well, together with a more complete setup rather than my 'quick and dirty' test setup.
This is an alternative approach for a B2B setup where there is an existing Mains Smart Charger installed. More Complex than a basic VSR but provides an automated proper multi-stage charging regime to the Leisure Battery at a lower cost than a dedicated B2B Charger if budget does not run to an off-the-shelf B2B.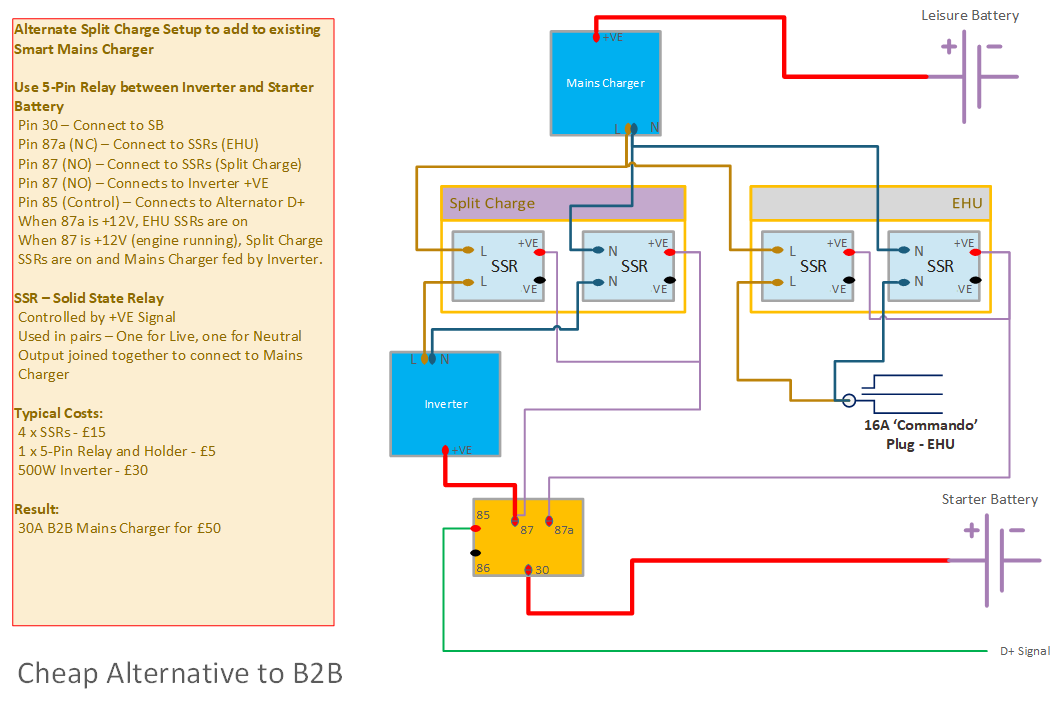 (Fuses and -ve cables not shown)
Using a pair of SSRs each side - one for Live & one for Neutral to ensure Mains and Inverter 240V lines are kept fully isolated from each other.
Using single 5 Pin relay with NO and NC outputs ensure only one pair can be active at any one time
An alternative to using SSRs is to use a Contactor (Auto-sensing 240V Relay) but typically more expensive.
The size of Inverter must be matched to the maximum output of the Mains Charger.e.g. if you have a 30A charger, a 500W Inverter (which can deliver 40A) would be the minimum. Using an undersized Inverter will not work out correctly.
If any one does give this a go, the info is provided without warranty and guarantee and risks are down to the installer.
I am fitting an alternate version of this design in the next couple of days.
Instead of using SSRs, I am using a CU DIN Changeover Switch -
https://amzn.to/2EN6U79
So using a Manual selection rather than automatic, and a 1000W inverter to feed into my 120A Charger (but current-limited to an output suitable for the Inverter (upto 80A for a 1000W device)).
Seperate to the B2B bit, I am incorporating a 3-way heavy duty DC switch which will let me bypass the Inverter B2B if I wish, or to use the Inverter off the Leisure Battery without any rewiring (giving me a backup/extra Inverter if needed).
Any questions, just ask
---
Like

2