In true Blue Peter style, this is one I did earlier.
Recent conversation I was having with a member who was suffering from damp issues in their van and they had never seen this thread......hope it helps.
I think my first port of call is to cut a small section of wall board at the bottom corners of the windows to see what condition the window frame is in
As I expected. I have another four test holes to make and then that should give me a good indication of what I'm up against.
Well as you can see it's drying out quite nicely. The wooden frame is in surprisingly good condition, yes there are signs of decay but I don't think this will be an issue.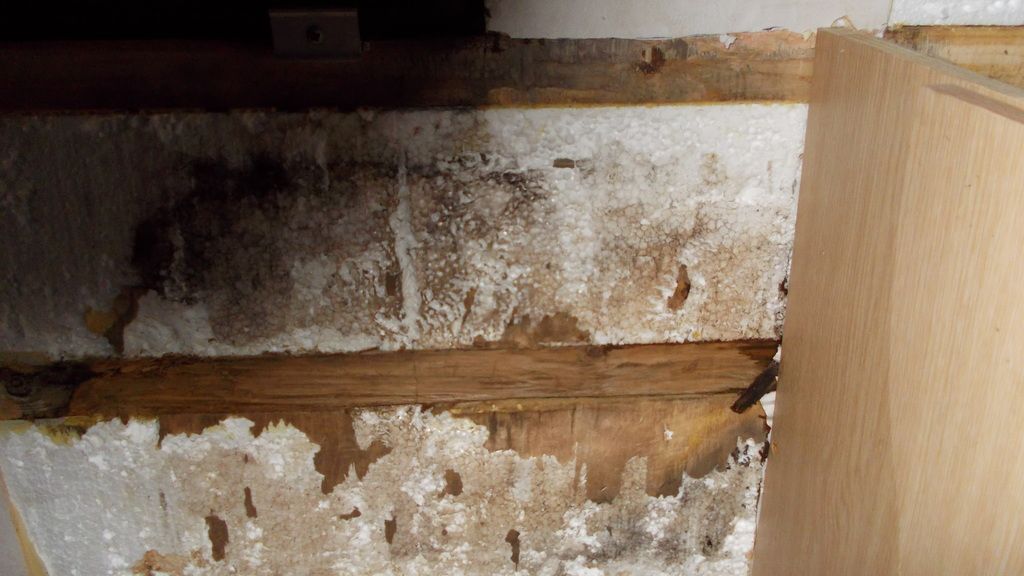 Remove the kitchen area. This consisted of fridge, cooker and sink; absolute nightmare, screws rusted in, worktop was glued down so had to be broken to get into the screws behind just generally a very disheartening job but, as you can see, it is done and it's now just a matter of drying out and tracing where the leak or leaks are coming from. Most of the wood frame seems to be in good condition and I'm hoping I will be able to use it rather than pull it apart and replace it.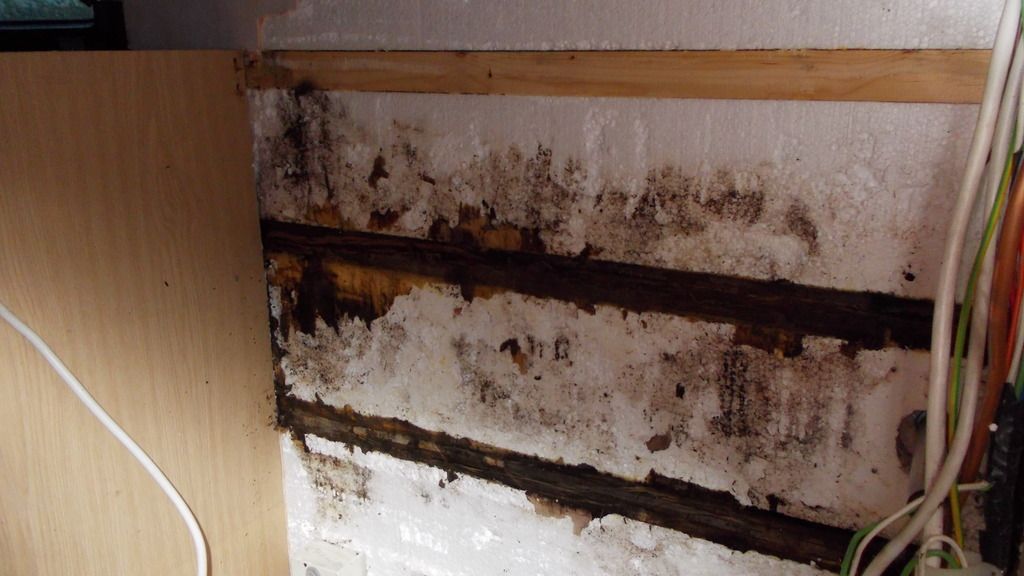 All plywood that has any water damage will be removed. The timber frame will be dried and then treated with some wood rot preservative though, to be honest, it's not in bad condition once it's dried out. I spent about five hours peeling off the wall boarding from the inside of the van, this was sodden and had gone black so what you see in the photograph is really the cleaned up version. I've had a heater running most of the day and, in fact, is still running now in the back of the van trying to dry it out. Once I find out where the leak is coming from I can then make the decision on what wall boarding I shall use, personally, I would prefer to use marine ply then cover it with something because the stuff that's been used already is next to useless.
The next plan of action is to try and find where the leak starts, I've got a sneaking feeling it may be coming from an outside light that the rubber seal has split (wouldn't that be nice) but to find out I need to remove more wall boarding. Once this has been achieved I can then concentrate on repairing the damaged furniture that I had to remove. While this is all happening, hopefully, the bodywork will be drying out. I know, at some point, the floor will have to be replaced in the back area but this will entail starting work on the other side of the van which I'm not too keen about as I am a firm believer of one bit at a time but that's a long way ahead.
Still chasing the leak. Working from the corner and going upwards it was inevitable I would get to the roof but what I found I certainly didn't expect.
If you look carefully you can see a dent, it doesn't look much but on closer inspection it was quite a large area. This had just been filled in and painted over. The other thing you may notice is condensation.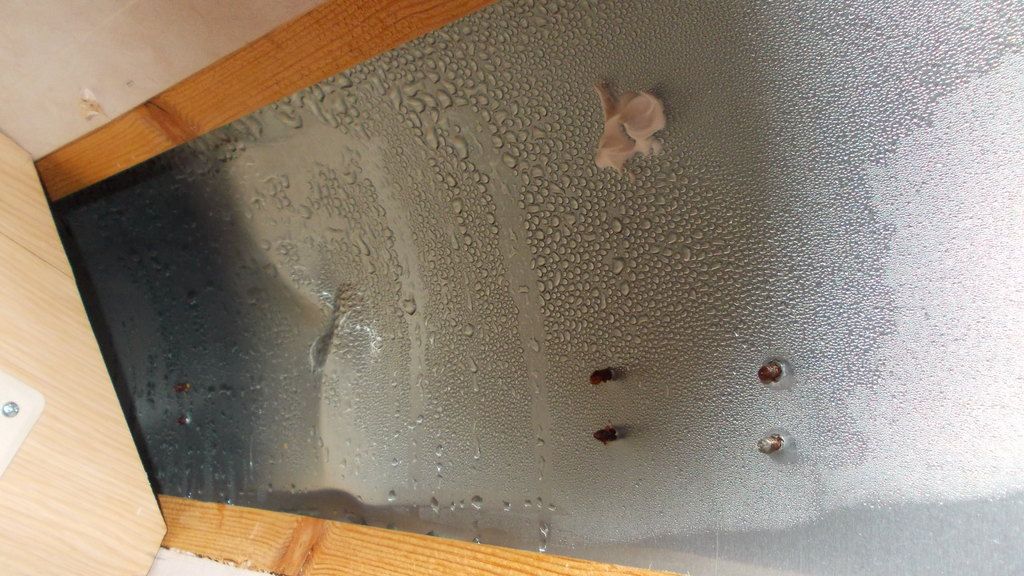 I think you must agree, quite a lot of condensation so we're getting there. I've now got to find out how it's getting in but that will be after I've knocked the worst of the dent out and see if there are any holes that have been covered over by the filler.
Managed to knock most of the dent out but as you can see, from the amount of filler that I had to remove, it wasn't a small dent.
The investigation procedure has moved on considerably. As you can see from the this picture, watertight in the corner.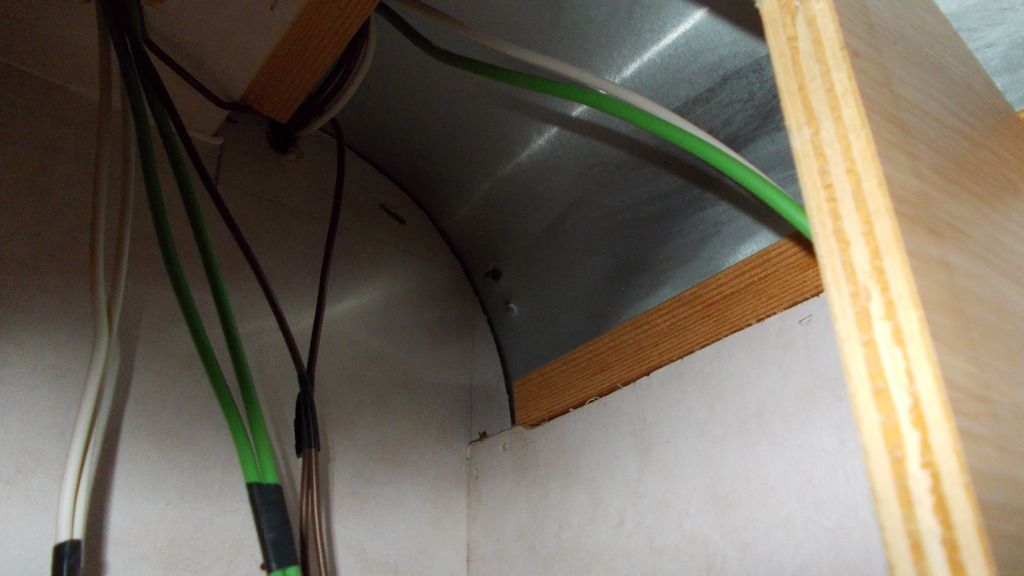 This picture shows the corner of the window with the polystyrene removed where I initially thought the water was coming in from.
And now the true culprit. The screws that hold the beading on the outside of the van, as you can see, missed the wood so not making a good seal.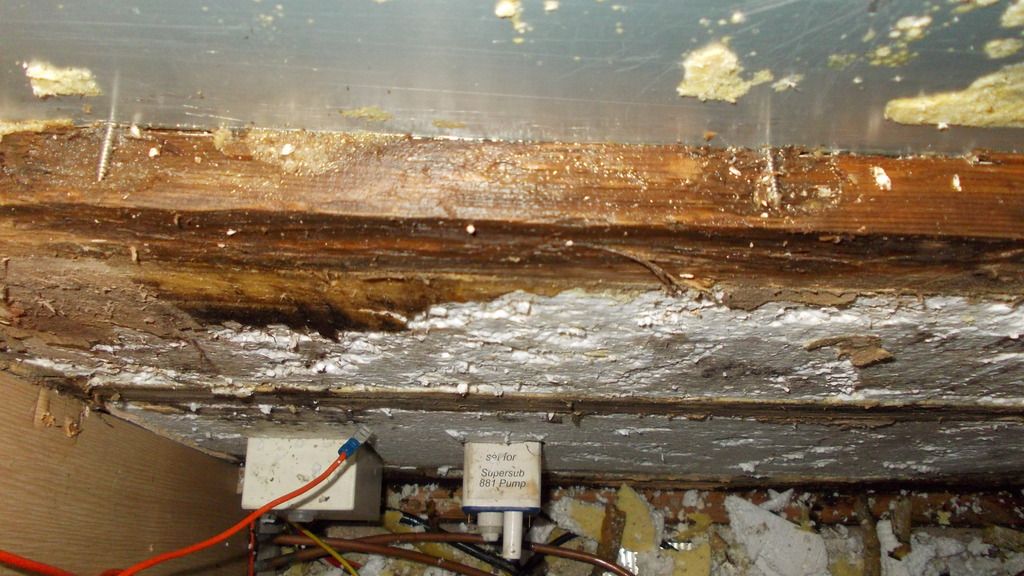 This picture is just a close up and, as you can see, water is beginning to form around the screw.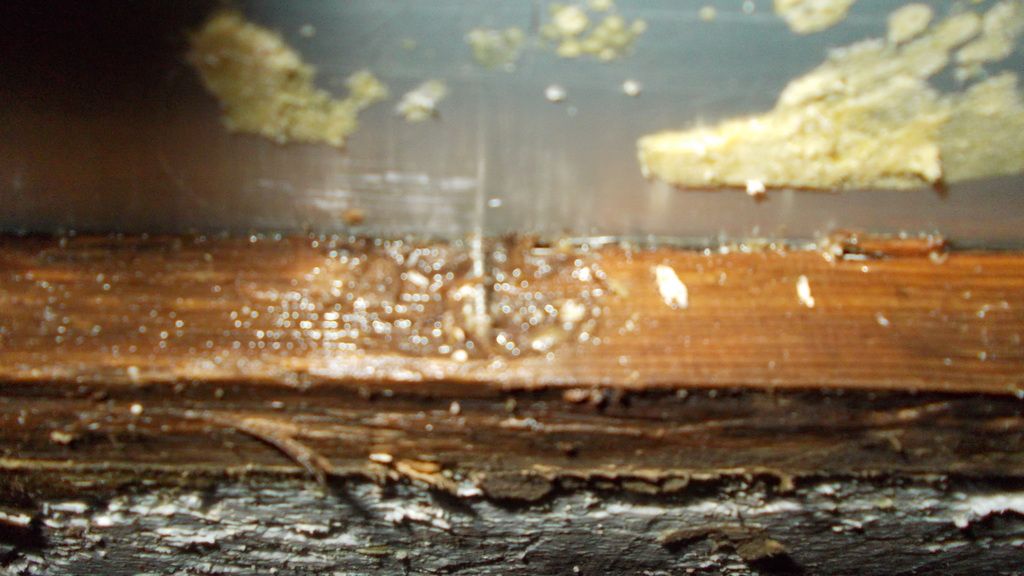 I believe this is one of the problems solved but I think I still might have an issue with the sealing on the corners of the outer van.
A decision had to be made after watching the water coming in last night I knew I had to seal the van. I did not want to remove the sealing strip along the side, although I knew it was not fixed securely due to the screws missing the cross batten so my only option was to try and dry the wood out as best I could and screw another piece of batten on top of the existing one and this would give the screws something to bite into when I came round to replacing them but in the meantime, hopefully, it would hold the strip in place.
As you can see I opted for gluing and screwing. I used a large amount of water resistant wood glue and then screwed into the existing batten.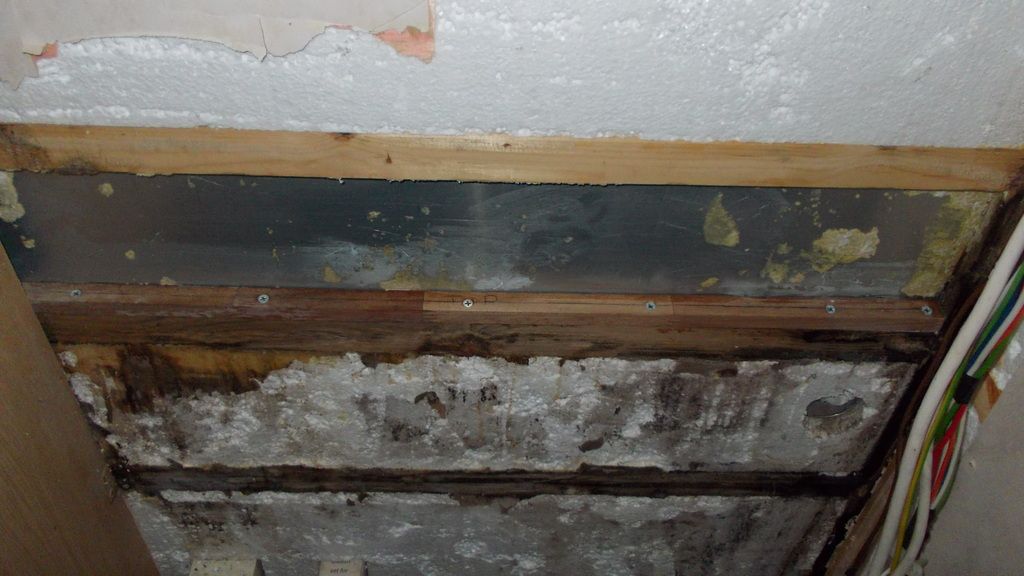 This picture here shows how much glue was used and how bad the joint is; to say I was shocked at how much glue was pushed out would be a slight understatement but shows the severity of the leak behind this sealing strip. This will be removed and resealed properly but, at this present time, I shall go round the outside with a thin bead of mastic.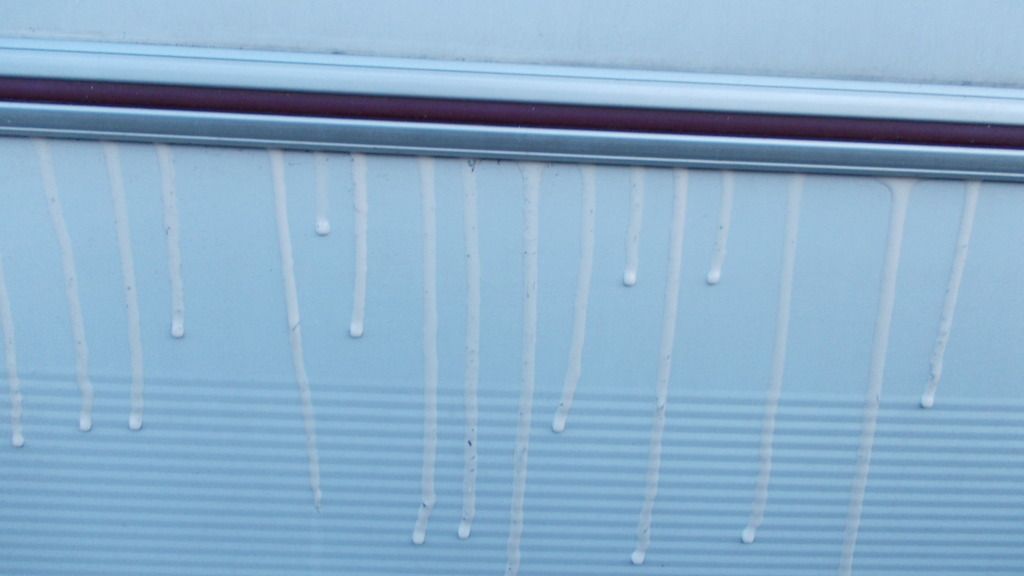 This picture shows how I've got it sealed until I can mastic it; basically went round it with some PVC tape trying to prevent any dampness getting in and tomorrow I shall peel it off and go round it with mastic just as a temporary job.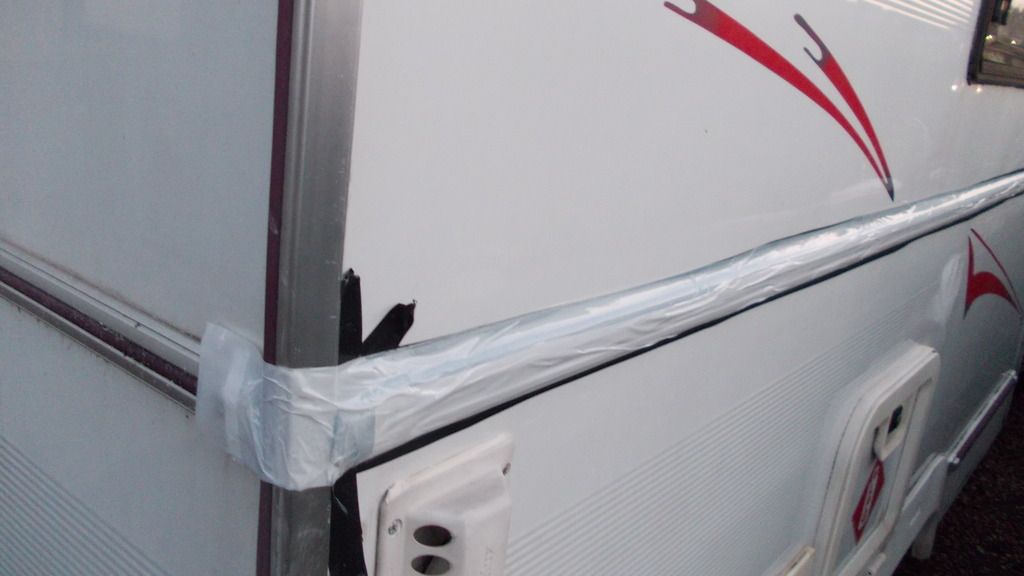 I've now got to wait and see if it dries out. If this is successful then I can temporarily fit some of the furniture back in.
At the moment I need to concentrate on the habitation area, it's covered in bits of damp wood and polystyrene and is absolutely filthy. To say it's depressing would be an understatement, you must remember I only bought this eight months ago and to be told on Monday it was my decision whether it was economically worth repairing was a bit of a shock. Having said that, the estimate was a shock as well
So after a quick flick round with a duster tomorrow I'm hoping to sort out the wiring as there's loads of dangly bits that need to be secured. If I can get one side dry I'll be a happy man. The biggest problem here is the weather, if it was dry and sunny this job would be so much easier but I can't seem to get anything to dry out inside. Once I've cleaned up inside I can put an oil radiator in and that may help and, to top it all, this is our only form of transport.......don't get much better.
After a week and a half of drying out I could see that some of the wood was unretrievable so I made the decision to remove the worst of it. As you can see it's a straight forward job.
Surprisingly the wood adjacent to the rotted area looks perfectly fine, this is due to the type of glue that was used; it had to be a waterproof glue as you can see the wood is in very good condition.
So all I need to do now is find some treated wood, cut it to size and slid it in to place. I shall be using copious amounts of mastic and stainless steel screws. If I'm not happy with it's rigidity I shall beef the joints up with some small L brackets.
Structurally it's not in bad condition, yes there's one or two pieces of wood that need replacing but, really, not a great deal; the only down side is the wall boarding and, to see what's going on, that has to come off. On the plus side the van will dry out a lot quicker. What I have found is when I've peeled the polystyrene away from the aluminium there is quite a substantial amount of condensation where the polystyrene has not been glued properly to the aluminium so my thinking (and this is only thinking) is I may have to remove the polystyrene as well if I wish to dry the van out.
Rae
---
Like

3

Well Done

1