So she is just purchased, and now have driven her about 75 Miles so far -
Had to call RAC out sadly after around 20 Miles as she was not pulling well and jumping, like with fuel supply problems.
On the Plus Point RAC man said engine sounded mint. There was a lack of water in Coolant for Radiator. He took fuel pump apart, said it was new; took carb to bits and said it was clean though something was a bit blocked. Anyway she seems to be OK now driving but as you can imagine first run out was slightly stressful
Now parked up for night
Got Fridge working on Gas, Cooker works though not tested fire or water heaters yet.
Here are some photos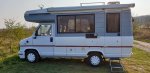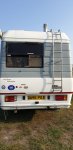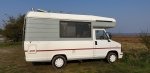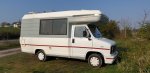 Next steps, look for some different lighting as I think the lights that are in her may be a drain on the battery.
Currently it appears water tank is empty as I don't think last owner filled it, although i asked her too
Also look for a name. Mildrid, springs to mind !
In terms of space and comfort she is nice though the sit-up type driving position I am finding a bit awkward, however maybe another cushion or moving seat back will sort it?
Comments, name ideas and anything else welcomed.
---
Well Done

3

Like

2