So the New Old Talbot has these Odd lights fitted which say 12V Max 10W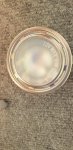 In total there are 6 around the Van interior, which makes it quite well lit from the Leisure Battery
There is also one of these, which I am wondering does it work both on 12V and 240V somehow ?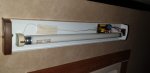 I have asked on the Talbot Facebook Group and they seem a bit stumped as to what the round ones are
I can take them apart and they unscrew like this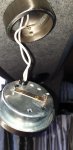 Aside from that there is nothing noticeable in terms of manufacturer details or the ability to replace a bulb should they go. They look like sealed Units.
I cannot find a way to get inside.
I am thinking of swapping them all out for some different LED lights which would, i feel, use less power from the battery
Thoughts ? Should I bother as all 6 lamps presently work ?
Any ideas what sort of lamps these are?
Any ideas whether I would save a lot of power replacing 6 of 12v by Max 10Amp lights and the strip light with some LED lights, yet to be discovered ?
Thanks in advance
Last edited: