After some extreme fettling we managed to get a Battery Monitor and a USB outlet installed in the front of the old Talbot
It transpired that there is an always on feed from the vehicle battery to what was the Stereo Power Supply, not sure how or why and would probably necessitate taking the dashboard off to find out, bit of a big job in the time I had available.
To get round that we made use of an old throw switch that was in the Van Dashboard, no idea what it was for, maybe some sort of ear phone jack outs for the stereo ?
So we can isolate and turn off the USB Power from the Vehicle Battery when she is parked up.
Vehicle battery supply for voltage monitoring is coming from what was the stereo power
For the leisure battery I ran a live cable direct and put an inline fuse into that just behind the unit
Parts and wiring help courtesy of
@wildebus
Additional help and ideas from Lachlann, my son.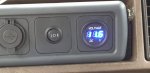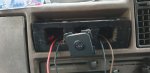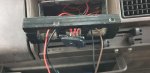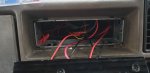 What do you think ?